Author: Gao Ming, Chairman, Industrial and Commercial Bank of China (Macau)
Bay areas have become important growth points to regional economies around the world, and have played a crucial part in technology innovation, talent aggregation and resource allocation. In recent years, China has attached great importance to the Guangdong-Hong Kong-Macao Greater Bay Area development strategy, which is part of the Belt and Road Initiative (BRI) and a national-level economic strategy following the Beijing-Tianjin-Hebei coordinated development strategy and the Yangtze River Economic Belt strategy. The Greater Bay Area aims to be a hub of talents, commodity and capital, to promote regional prosperity, and contribute to the transformation and upgrade of the Chinese economy. It injects new impetus into economic growth, and shows China's determination to expand its opening-up.
Trans-regional cooperation
The Greater Bay Area has a vast economic hinterland consisting of Hong Kong, Macao and nine cities of the Guangdong Province, including Guangzhou, Shenzhen and Zhuhai. It has an open economic structure and advanced international exchange networks. In the year of 2022, its permanent residents numbered more than 80 million people, and its economic output reached nearly $2trn. The Greater Bay Area aims to establish a world-class city cluster and technology innovation centre, and set an unparalleled example of China's high-quality development.
The financial industry is highlighted as a core sector of the Greater Bay Area, and enjoys enormous opportunities in trans-regional cooperation. Through providing services across the region, financial institutions can better meet the demand of traditional manufacturing plants in Guangdong with resources from open capital markets in Hong Kong and Macao, and facilitate the industrial application of scientific research findings at a wider range and higher efficiency by joining different parties together. The trans-regional financial cooperation will serve to establish a more competitive modern industrial system in the Greater Bay Area. It enriches the implementation of China's 'One Country, Two Systems' initiative, and will bring about the opening-up of China at a higher level.
As a region consists of three separate customs territories following 'two systems,' the Greater Bay Area also encounters many challenges in financial cooperation. Although the three neighbouring parts within the region, Guangdong, Hong Kong and Macao, share a similar culture and have worked together in various fields, they still need to resolve the divergence on financial supervision and legislation, the restriction of cross-region capital flow, and their gaps in talents, funds and preferential policies. To promote financial cooperation across the region, all parties need to join hands together to create a highly open, unified and competitive market, and improve on related economic mechanisms and institutions.
Integrating industry
To improve financial cooperation of the region, institutions need to focus on how to better serve and benefit from the trans-regional flows of capital, information and commodity, and achieve a higher level of integration. Looking into the future, the financial cooperation of the Greater Bay Area requires greater action, as I shall now explore.
All parties need to join hands together to create a highly open, unified and competitive market
We need to strengthen the top-level design of economic institutions, and reconcile both the coordination and autonomy of market entities. Development of both emerging industries and traditional sectors is needed, and the participation of both large enterprises and SMEs, as well as integration of the competitive industries of each city to create more opportunities for financial business. For example, combining Hong Kong's booming financial and trading business with Guangzhou's time-honoured commerce and cultural industry, together with leading technology enterprises in Shenzhen, high-end manufacturing plants in Foshan, Dongguan and Zhongshan, and the tourism industry in Zhuhai and Macao.
We need to improve economic mechanisms to achieve coordinated governance of the market by Guangdong, Hong Kong and Macao official institutions, take full advantage of Hengqin, Qianhai and Nansha strategic platforms to promote the deregulation of cross-region capital flow including foreign exchange, and facilitate the unrestricted movement of different productive factors within the region. Establishing a coordinated supervision mechanism is important, as well as attracting different investors and improving financial infrastructure to help Hong Kong and Macao investors to participate in projects in Mainland China, and promote a more balanced development of cities along the Pearl River.
Finally, we need to foster an industrial cluster led by the high-end manufacturing sector and innovative technology enterprises, and encourage the financial industry to better support the development of real economy.
A financial gateway
Through regional co-operation, Macao will be able to create fresh opportunities for its economy, and continue to play a crucial part in both the regional and national development process. As an important platform of the group's international business, ICBC (Macau) has seized the opportunity to play a leading role in the financial cooperation and innovation of the Greater Bay Area.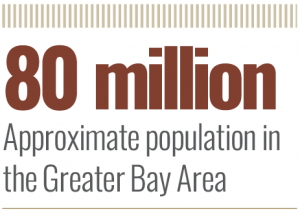 Looking into the future, Macao, a gateway between China and other BRI countries, is expected to be a commerce platform to deepen China's cooperation with other BRI participants and Portuguese-speaking countries. ICBC (Macau) promotes its collaboration with other institutions of the group, and continues to support international cooperation through its professional services.
The financial industry in Macao is deepening its participation in the Greater Bay Area market, and especially in the Guangdong-Macao in-depth Cooperation Zone, which is designed as a pioneering area of trans-regional financial cooperation. Through establishing innovative mechanisms in capital flow and foreign bonds, and sharing similar tax policies with Macao, the Cooperation Zone aims to create a more open financial market in line with international regulations. In this way, financial institutions in Hengqin and Macao are presented with opportunities to develop further cooperation, and make attempts at cross-border capital movement, investment and financing, and a higher level of financial opening-up. ICBC (Macau) attaches importance to its development in the Greater Bay Area, and strives to develop cooperation with financial institutions in the Hengqin region.
A leading bank in Macao
As the largest locally registered financial institution with a full bank license, ICBC (Macau) plays a leading role in trans-regional financial cooperation, and optimises its cross-border financial services in the Greater Bay Area and key regions of Mainland China. It makes efforts to improve its cross-border linkage mechanism with domestic institutions of the ICBC Group to jointly provide efficient financial services, including trade financing, project financing and syndicated loans, and leverage its advantage as a platform spanning Macao and Mainland China.
In addition, serving as the flagship of ICBC Group's overseas business, ICBC (Macau) continues to work with domestic institutions of the group to provide joint services, expand its base of key customers, and play its part in supporting the implementation of China's Go Global strategy and a high-quality development of the Belt and Road Initiative.
In terms of business development within the Greater Bay Area, ICBC (Macau) has fully implemented the group's regional strategy to provide local enterprises with comprehensive financial services including deposit, loans, remittance, equity investment and bond underwriting, and firmly support their participation in global business. Moreover, ICBC (Macau) also strives to provide innovative and high-quality financial services for residents of the region, and make its contribution to trans-regional integration and development of the Greater Bay Area.